Niko über sein Leben als Yogalehrer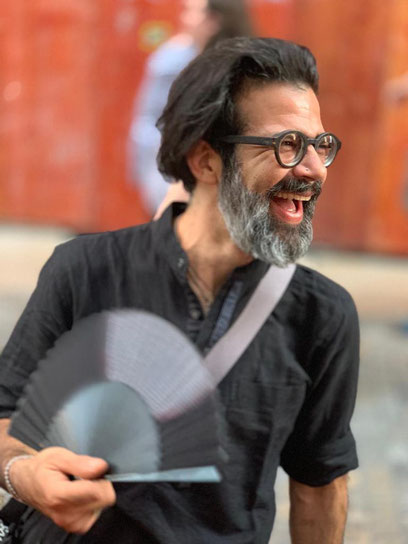 1. How did you get into yoga?
The first time I ever did yoga was in a garden of a friend who was at that time studying to become a teacher. It was a warm summer evening in the south of Greece, on an island and I must have liked it a lot since when I got back home, I decided to find a school and register myself. The first few years I did hatha yoga and kriya yoga and sometimes Nidra yoga. Ashtanga came a bit later in around 2006. 
 2 . Why did you choose to teach yoga?
When I realised that I wanted to spend my life in understanding what this practice is about, that was the time to make the decision to actually spend my life teaching yoga. When you are a yoga teacher you have the advantage to immerse into what you love and share this love with others, you are given the chance to actually watch and care for many more bodies and minds practicing, and so you have the prefect reason to do yoga every day, all day.
3. What does yoga mean to you?
I recently read Eddie Stern's book and I remember when he wrote that yoga is not a lifestyle, it's not a way to live our lives, but actually a way to watch how we live our lives. It is a dristhi to our lives, an awareness tool that brings us back to here and now and helps us practice compassion, kindness, forgiveness, love and appreciation. For me it is a daily part of my soul food, and a priceless inexhaustible treasure of reminding and practising.  
4. Why do you practice Ashtanga Yoga?
The physical intensity of Ashtanga Yoga seems to be offering me a strong practice for the mind, which is the ultimate goal. Also the methodology of the way the asanas are repeated when practised, offers me the quietness I long for, when practising. It utilises my watching awareness better and offers me remarkable results. I must also admit that the teachers I have had the chance to study with, have reinforced this decision, as they have all functioned as inspirational role models.
5. What is special about your yoga class?
 I have been lucky enough to study repeatedly for some long periods with a number of teachers, something that has offered me an insight on their understanding and helped me develop my own mixture of teaching methods. I enjoy employing jokes, as well as images in my led classes, while at the same time sharing possibilities and tips of approaching the practice in a Mysore one. Being at the service of the student, while setting the pace and keeping the conditions fruitful for the development of the practice are some of my priorities and the way I see the role of a teacher. Sharing the generosity and love that I have actually received from this process is the force behind any teaching moment. 
6. Where did you learn your Ashtanga yoga?
I started practicing in Athens Greece around 2005-2006 with Kristina Karitinou and a couple of years later I started attending Manju Jois's workshops and trainings there once a year. Some 10 years later, I started visiting India and practising with Sharath Jois either for 1 or 2 months. At about the same time I participated in month-long intensives as well as retreats with Richard Freeman and Mary Taylor. 
7. What else did you work or study?
My academic studies were all in languages and literature as I graduated from the university with a degree in both English and German language and literature. Then I did a Master's in translation and worked for quite some time both as a translator and also making subtitles for movies. I also spent more than 15 years teaching foreign languages to almost all possible ages and levels. Once a teacher always a teacher.
8. Which (Ashtanga) yoga teachers have particularly influenced or impressed you?
To just name 1 teacher would be unfair and wouldn't serve the reality. I have had the blessing to find myself next to a handful of senior teachers, all of them having studied and taught between 20-40 years and each of them made his/her own impression on who I am. Even teachers in workshops I have attended managed to add to my overall shaping of what I am right now. Each one of them has had their share on the person I am today and the way I teach. It has been Kristina's joy and love, Manju's compassion and lightness, Sharath's keen eye and observation as well as Richard and Mary's deep knowledge and understanding that have created the matrix of my practicing and teaching life. The guidance and generosity of my Zen Master Hyon Gak Sunim has enriched all the above and offered me a whole new spectrum of practicing and teaching. 
9.What do you practice besides asanas?
I start my day with an extended sitting session, most days followed by pranayama and sometimes chanting. Then the Asanas come to manifest in a physical level this cessation of mental processes. Then I constantly remind myself through the day to practice letting go and loving kindness together with compassion. Practicing seems to take place so much on as well as off the mat. Even the days when no formal practicing takes place there is always an internal reminder of practicing all values through the course of the day. 
10. How is yoga reflected in your life?
When there is no more I and You then the actual union has been achieved. When the understanding of oneness and interbeingness fills my life it is clear to see how yoga is actually happening right here at that moment. The handling of each moment as being the only moment is the way I observe how practices actually shape my life and reflect themselves upon it. Yoga is mirrored in the way I will talk to people, how I deal with the fluctuations of the mind and how I actively decide to take each and every step that is necessary. 
---
Niko unterrichtet regelmäßig Mysore Stunden, Led Classes, Technik Stunden und Workshops auf Deutsch und Englisch. Mit seinem Humor, seiner Präsenz und Erfahrung sind seine Stunden jedes mal ein besonders Erlebnis!